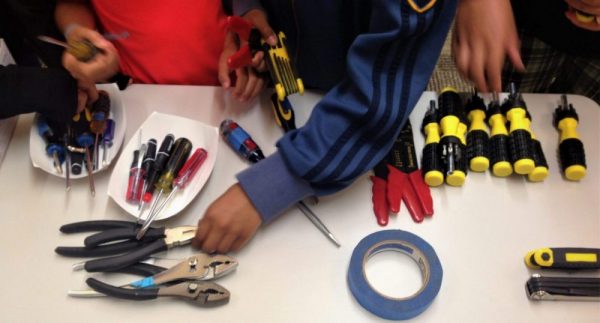 We make things and teach other folks how to make things!
Our services include innovative project and tool tutorials, STEAM-focused workshops and curriculum, and professional development. We educate and develop tutorials and curriculum for folks of all ages and backgrounds in one-on-one and group settings.
Our educational project-based learning approach builds the foundations of STEAM (Science, Technology, Engineering, Art, Mathematics) subjects through hands-on application of the scientific method and the design thinking process, with a hefty dose of creativity, practicality, and fun. Curriculum and projects are adaptable for students of all ages and backgrounds.
Our tutorials, workshops, and curriculum use college-level concepts to provide a thorough and comfortable understanding of STEAM subjects and terminology, with a particular focus on technology, engineering, and design. Students gain practical and applicable knowledge and skills in these subjects to communicate effectively, problem-solve, and learn independently.
Rates
Workshops
One-on-One: $60/hr + $30/hr travel time
Small Group Workshops (max. 5): $150/hr + $30/hr travel time
Large Group Workshops (6 or more): Based on size and type of class — please inquire.
We provide all materials and tools needed to build a particular project. While we strive to let our students keep as much of their project as possible, if you would like to keep all of the materials from a particular project we request that materials cost is added to the cost of the workshop.
Custom Tutorials, Curriculum & Professional Development:
$75/hr + $30/hr travel time
Contact
Please contact us at FoxBotIndustries@gmail.com to set up professional or curriculum development for yourself, your school, or your organization (or fill the Contact Form below). Thank you and happy building!